FRESHERS' WEEK 2023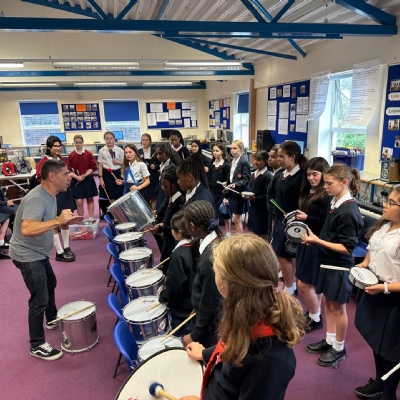 From the 25th until 29th September our year 7 pupils were invited to try out a wide range of extra-curricular activities in Freshers Week. They included Black Out Poetry, Fitness, Choirs, Making a Mobile Phone Stand, History Mystery, Develop your acting skills in Drama and Language Trivia Quiz amongst others.
Thank you to all of the teachers for providing so many exciting and enthusing activities.
During Freshers' Week year 7 took part in lots of activities such as concert choir, football, samba drumming, netball, science club and lots more. Our favourite activities were netball and concert choir. Some clubs took place during lunchtimes and some after school. We were given a passport and for each activity we attended we received a star stamp that was worth 3 house points. Many thanks to all of the teachers that set up this wonderful week.
Melissa and Julia 7A