CULTURAL DAY 2023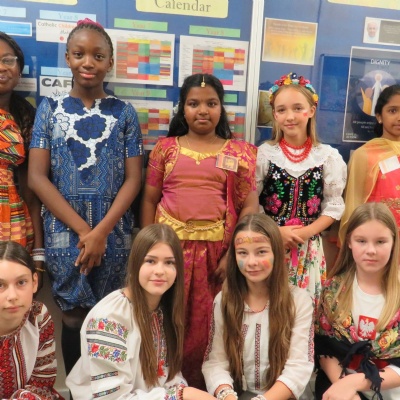 On Thursday 5th October 2023, the whole school celebrated an amazing Culture Day!
We invited our students to wear traditional dress/clothing items that represent them, their background or culture. The school was filled with the most beautiful and colourful traditional dresses and colours from around the globe. During PCT students decorated their Form Room doors with flags from their home nations and celebrated each other's countries.
At lunchtime the Year 11 Senior Team organised a food sale and a fashion show. Students from all year groups created and brought in home cooked, traditional dishes and food items to share. This created a real sense of community in the Assembly Hall. Following this wonderful lunch Senior Prefects led a Fashion Show that included all year groups and saw a catwalk full of beautiful dresses with live music and traditional dancing. The students enjoyed celebrating each other's culture and traditions.