Year 8 Trip to Boulogne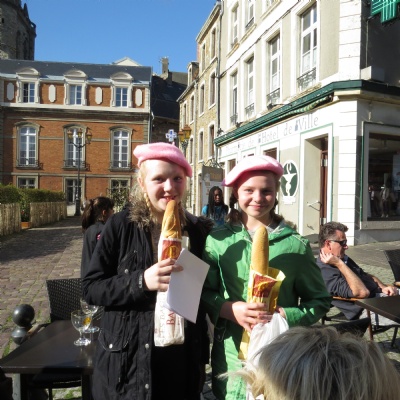 On Friday 2nd October Year 8 went to Boulogne-sur-Mer in France for the day. We left school on three coaches at 04.30 a.m.When we arrived at Folkestone to take the Eurotunnel it was closed consequently we had to take the ferry to Calais. We all enjoyed this experience.
In France there were three activities - a visit to a Boulangerie where we had the opportunity to make croissants, a trip to a sweet making factory and going shopping in the market.
In the sweet factory, there was a man teaching us to make sweets. It was very interesting and he was really funny. He chose some students to have a go at trying to mould the sweets and we all got to smell the sweet mixture. In the end we got to try a sweet and buy our own.
Finally we went to the old city of Boulogne where there were many shops where we were able to buy souvenirs and lunch. Most people bought baguettes.
Overall the trip was very amazing and a great experience. We are very thankful to all the teachers that organised this trip and gave up their time to go with us.
Ariana Ferreira and Elizabeth Peach - Year 8 students