Christmas hampers for distribution to those in need in our community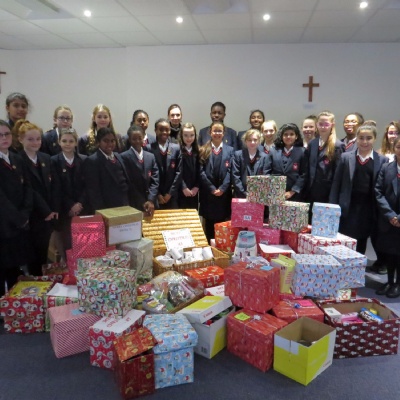 We have come to the official end of Year of Mercy but it is merely the beginning. Our mission statement is: "Confident in God's love for us, we commit ourselves to His service", so the Year of Mercy, was a wonderful opportunity for us to reflect on God's love for us and experience through our service his mercy for us.
In our Advent Reflection last year and this year we focussed on Pope Francis's entreaty:
'It is not sufficient to express mercy. Jesus also asks us to forgive and give. To be instruments of mercy because it was we who first received mercy from God!'
Every year we prepare Christmas hampers for distribution to those in need in our community. The response from the pupils is always magnificent but there was a special love in the manner in which the job was done.
In the Lenten Penitential Service Pope Francis' words were at the heart of our reflection and examination of conscience:
'Judge not and you will not be judged; condemn not, and you will not be condemned; forgive, and you will be forgiven; give, and it will be given to you.'
Every pupil had the opportunity to make a commitment to live the life of Christ. The commitment was written on a post-it note and displayed in the Chapel, a reminder to invoke the Holy Spirit to assist us in our quest every Tuesday morning in Mass.
We continue to support our neighbour through prayer and the Sacraments: our Tuesday morning Masses this term have been very well attended with full participation in a respectful and prayerful manner. We support our neighbour through contributions to Charities; we are collecting for Christmas hampers for distribution in the community and are thankful to Waitrose who have contributed again this year. We support our community through sharing our gifts and talent; we are singing carols and Christmas songs at St Vincent's Nursing Home in Northwood. None of this would happen without the generosity of our pupils and staff. As we look forward to the birth of Jesus, we ask Him to support us in our mission to love and serve Him.