Feast of The Sacred Heart Celebrations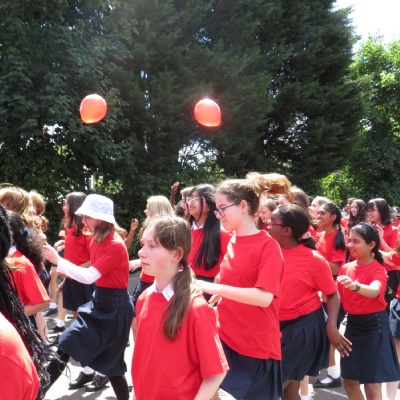 Our Sacred Heart Feast Day was celebrated on July 8th. The theme of the Liturgy was 'Love in Action': being humble, forthright, encouraging, helping others learn, grow and succeed, giving timely and helpful feedback, and helping people to feel good about themselves and we certainly saw it in the Awards and Rewards Ceremony; a time to reflect on the excellent work and attitude to work shown by our pupils. The range and success of individuals and groups was truly impressive and greeted by appreciation and enthusiasm; the Sacred Heart is a truly vibrant community of which we are proud.
We then enjoyed our 'fun' session. Traditionally, the school treats us to a barbeque which was, as always, well received whilst our school R&B band entertained us with exuberance. We had practised and enjoyed dances in House groups: Jive (Seraphina), Twist (Elizabeth), Bus Stop (Adelaide), Footloose (Regina), Macarena (Tatiana) and Cha Cha Slide (Hope). The winners were Adelaide.
Click here to view more photos