Year 8 Trip to the Globe Theatre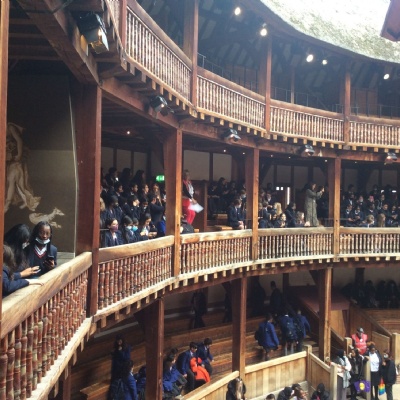 On Friday 8th October 2021, the whole of year 8 went to the Globe theatre to see "A Midsummer Night's Dream" by William Shakespeare. This was a great opportunity as we studied the play at the end of year 7.
We left the school at 11 and went there by coach. We saw all the main sights of London like the Houses of Parliament, Big Ben, the back of Buckingham Palace and of course the beautiful parks and banks of the River Thames.
The sensation of seeing the theatre for the first time was really breathtaking as it is phenomenally beautiful. The whole theatre is a round wooden 'O'. We were sitting on the second level up. We had to walk up old wooden steps. We had a great view of all the stage. We were in the middle facing all the action.
The play was amazing. All the actors made it so realistic. The audience all laughed so much as they were so good at slap stick and delivering their lines. My favourite part was when they grabbed a teacher from the audience and put him into the play! I am sure he will not forget that scene. I also liked the play within the play about Pyramus and Thisby. This was the scene we acted out last year, so it made sense to me.
Jessica Codrea 8S