Black History Month Celebrations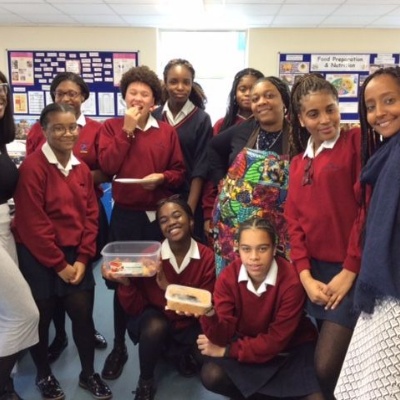 Wednesday 6th November, for the first time in Sacred Heart History, we had an Afro-Caribbean taster lunchtime in Mrs Pasha's food room. It was the perfect way to end a month of celebration of Black History Month 2019. Students and teachers alike brought in tasty foods and snacks from their country of origin. We had food from Zimbabwe, Kenya, Jamaica, Ghana and Nigeria. It was an opportunity to share our culture over food and music. And the food did not disappoint, the queue was buzzing with girls from all year groups and the whole school community supported us 100%.
We raised £180 in one lunchtime and all proceeds will be going to the Sickle Cell Society, who do great work in the UK. The Management Committee is accountable to the members and works with a small core of paid staff to further the Society's aims by providing special services and welfare schemes for sickle cell sufferers.
It was a great day enjoyed by all. A special thank you to all staff and students who gave up their lunchtime to serve the school community. A heartfelt thank you to everyone who cooked and brought in food. A big thank you to the following students: Samantha, Rachel, T'yana, Kcarys, Amelia in Year 11, Adwoa in year 9 and Angel in Year 8.
A BHM Show and Tell session was well attended and gave many students the chance to talk about an aspect of their culture that is dear to them. Through the great range of topics tackled in their presentations the girls proudly offered to their peers an insight into African and Caribbean culture and history. They were truly amazing.
A selection of books celebrating BHM were available for students to borrow from the Study Centre.
These activities are just another example of our school's motto, 'Confident in God's love for us; we commit ourselves to His service.'