The Sacred Heart - Community Quiz Evening VII 'Something for Everyone…'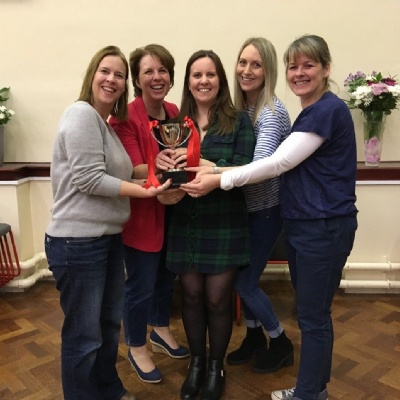 The school hosted the Seventh Community Quiz Evening on Friday 22nd March.
There were several firsts for this quiz, the most notable was the introduction of the Alumni Quiz Cup. There were five teams containing past pupils of the school with the inaugural rewarding of the trophy going to the team of We're That Table, a family team of past pupils. Another first was for the overall winners of the quiz who actually managed to defend their title from the last quiz. A very special congratulations to Snow White & The Seven Dwarves (it would seem that Snow White was drafted in to ensure that the dwarves kept hold of their title from the last quiz!) Even more impressive was that they furthered their success from the last quiz by answering 83% of all the questions correctly. The turnout was as strong as ever with 12 quiz teams fighting for the right to become champions. Thank you so much to those who come to the evening and support, and also to those parents who contribute that can't make the evening. Our quiz fund-raising total now exceeds £6,000 where the proceeds are going directly back into the development of the school. An additional thank you goes to all those who donated prizes for the raffle. Our 8th Community Quiz Evening will take place in July 2019, where the theme will be 'the new generation…' please do come along with family and friends, I look forward to seeing you there.