Year 8 trip to boulogne-sur-mer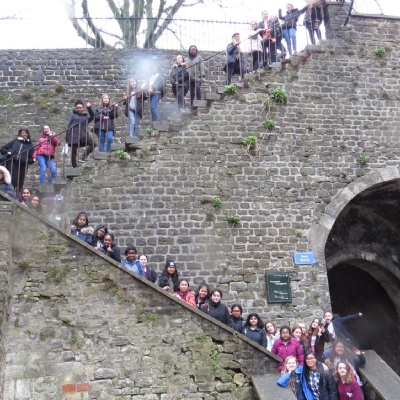 Wednesday 28th March 2018
On a cold, dark and rainy Wednesday morning before dawn at 4am, 136 bleary eyed Year 8 students boarded 3 coaches to go on a trip by Eurotunnel to Boulogne to get a little taster of gallic charm.
Despite the rather ungodly hour, by the time we arrived at Folkestone terminal everyone seemed in good cheer. Once on foreign soil the girls got the opportunity to wander through the Boulogne marche and explore the walled old town, and tried their hand at buying lunch and souvenirs using the french language. They were given a bilingual and very sugary demonstration of how sweets were made at a "Confiserie" and also had a chance to knead dough ready to go in a wood-burning oven in a traditional bread-making session. The girls were given the opportunity to show off their croissant-making skills by a boulanger- baker –more akin to a theatrical sergeant major - terrifying and hilarious in equal measure – as he asked amused volunteers to converse with him in French and to cut up the croissant dough. We were then all treated to a pain-au-chocolat and croissant freshly baked on the premises.
The girls behaved in an exemplary fashion and even the constant rain did little to dampen their spirits. All in all it was a really fabulous – if exhausting – day and a real pre-Easter French treat for Year 8.
Rachel Fernandes 8T, Erin O'Connor 8T, Molly Rochford 8T and Lauren Shaughnessy 8T wrote the following on their day -
On Wednesday 28th March, Year 8 girls arrived at school at 4am in the morning to visit Boulogne-Sur-Mer, France. We took the channel tunnel from Folkestone to Calais. With the help of our French booklets and our own knowledge, we embraced the experience of buying things in the Boulogne market. The girls visited cheese stalls, sweet stalls, bakeries and many more cultural market stalls.
Following the market, we were given the opportunity to visit a local sweet factory to see how sweets were made. We were fortunate enough to see two types of sweets being made, jelly and hard boiled ones. The sweets start as a mixture of sugar, water, glucose syrup and sometimes gelatine before they are poured into moulds and finally eaten. We were then able to buy items such as meringues, chocolates, caramels and other sweet treats using French language.
We visited a local French bakery - a 'boulangerie', were we discovered how to make different French breads and croissants. Firstly we spoke to a lady who told us about handmade and machine made breads. We were given the chance to knead and shape the dough. We were taught by a terrifying but funny French baker how to make croissants , we then cut and rolled our own croissants. Sadly, they failed to make it to the oven as they were crushed by his fist (and ours!).
Finally, we wandered around the old town of Boulogne, surrounded by stone walls. We were given a free time to walk around and visit souvenir shops. In the middle of it all, was the town square with lovely gardens and a beautiful fountain. When it was time to end our busy day in Boulogne and return home to England.