Othello Play at Shakespeare's Globe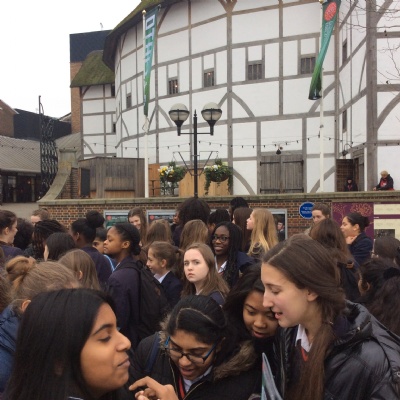 With Year 9 having just finished our Shakespeare Unit, their returning to it for the exam, and needing to write about a Shakespearean Tragedy next year for their Literature GCSE, the trip came at the perfect time for our Department and the girls.
The crowd was such a big part of the experience and, with zip-wires from the roof, lots of music, choreography and crowd participation, the Globe's performers went to special lengths to encourage the teenage enthusiasm. From Act 1, there were explosions of booing at Lago's racial slurs, then cheering at Desdemona and Othello's kiss, then gasps during the violence of the later scenes. This was the football crowd atmosphere described in so many Shakespeare biographies that's too often stifled at high-brow performances.
Reflecting on it in class, most students highlighted how much easier it was to follow Shakespeare when seeing it in a performance, whilst also appreciating how universal the themes of racism, jealousy and trust are for teenage audiences today. Opinions were divided on whether Cassio or Othello was better looking, but the girls were unanimous in their feelings about Desdemona's ugly shoes! Mr Flinn
Click here to view more photos